Brian Firenzi
Talk

0
185pages on
this wiki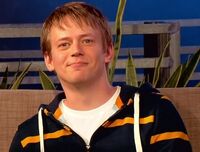 Brian Firenzi is an actor who portrays The Law in Video Game High School. He is also one of the show's directors and creators.  Firenzi is also well known for his own personal project started back on October 30th, 2008: 5secondfilms (5SF).   5secondfilms boasts 1,700+ videos, the majority of which are only 5 seconds long (2 seconds intro, 5 second video, 1 second outro).  Only a handful of the channel's videos are longer than that.  For videos this short, 171 million views total (and counting) make 5secondfilms a recognizable and successful step in a different direction.
Before his project gained prominence/mainstream, he was often referred to in the comments section of his 5SF videos as The Law ("Is that the Law from VGHS!?").
Besides working on 5SF's final project, a full feature-length movie "Dude Bro Party Massacre 3," Brian Firenzi also has a YouTube channel "Brian and Maria" which he shares with his long-term girlfriend (also a 5sf member).
After Season 1 of VGHS ended and talk/work of Season 2 was beginning, Brian Firenzi flatly said:  "All of the action will be shot in 300 frames per second" before being drowned out in laughter.