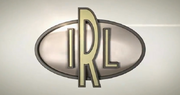 In Real Life
, styled as
InRealLife
or
IRL
, is a talk show in
Video Game High School
. It is hosted by three women,
Bella
,
Rosalie
, and
Esme
, who feature gamers and possibly other celebrities on the show.
The only episode seen was in Episode 1, where The Law was featured. He was going to show the ladies what a pubstomp was; it is when a pro player goes into a random match, presumably in Field of Fire, and lays down the law by themselves, leaving the other players to reset to one team, as seen in later in the episode.