Johanna Braddy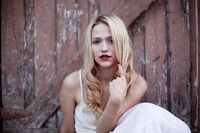 Role   -   Actress
Character   -   Jenny Matrix
Date of birth   -   August 30, 1987

Johanna Elizabeth Braddy (born August 30, 1987) is an actress who portrays Jenny Matrix in [[Video Game High School (series)|Video Game High Sch
Early life
Edit
Johanna Elizabeth Braddy was born in Atlanta, Georgia; the daughter of Jo Beth, a preschool music teacher and a vocalist, and Steve Braddy, an engineer. Braddy has one brother, Cole Braddy, who is eight years younger. Braddy attended the McIntosh High School in Peachtree City, Georgia, and graduated in 2005. Braddy was also the captain of her high school dance team. She was an active member of McIntosh's drama program under director Stephen Buckner.
Acting career
Edit
Braddy's film debut was in the film Pop Rocks playing Olivia Harden. Her television debut was in Avatar: The Last Airbender playing the Princess Yue being a major/secondary character. Braddy has appeared in other roles such as Surf's Up, Broken Bridges, Home of the Giants, The Oaks, and many more film and television roles including her role on Greek as new ZBZ pledge Jordan. She also played Lisa in Paranormal Activity 3 and The Grudge 3 and Melody Bostic in the 2010 comedy Easy A .
Personal life
Edit
Braddy lives in Canada and works in the movie industry hoping to expand her career in the future. She was apparently married to Josh Blaylock, Brian's actor, whom she first met on VGHS; their wedding was in November 2012. Around the end of June 2015, Johanna had tweeted that they are not married but are great friends. Even Josh Blaylock had retweeted this to further confirm that they are indeed not together.  
Ad blocker interference detected!
Wikia is a free-to-use site that makes money from advertising. We have a modified experience for viewers using ad blockers

Wikia is not accessible if you've made further modifications. Remove the custom ad blocker rule(s) and the page will load as expected.