Josh Bayblock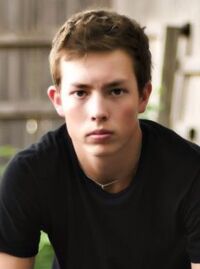 Role   -   Actor
Character   -   Brian D
Date of birth   -   March 29, 1990

Josh Blaylock (born March 29th 1990) is an actor who portrays Brian D in Video Game High School.
Born and raised in Texas, Josh has one older brother and owns his own horse. He moved to LA at the age of 18.
In real life, he was apparently married to Johanna Braddy, who portrays Jenny Matrix (Brian D's love interest); their wedding was in November 2012. Josh & Johanna have a wedding website..
Around the end of June 2015, Johanna confirmed in her verified twitter account that they are not married any longer but are great friends. To add, even Josh had made a tweet to further confirm that they are not married and are just friends. The couple got a divorce some time in 2014 or early 2015. The exact date is unknown.
Other Films
Edit
Ad blocker interference detected!
Wikia is a free-to-use site that makes money from advertising. We have a modified experience for viewers using ad blockers

Wikia is not accessible if you've made further modifications. Remove the custom ad blocker rule(s) and the page will load as expected.