Josh Blaylock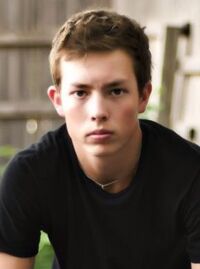 Role   -   Actor
Character   -   Brian D
Date of birth   -   March 29, 1990

Josh Blaylock (born March 29th 1990) is an actor who portrays Brian D in Video Game High School.
Born and raised in Texas, Josh has one older brother and owns his own horse. He moved to LA at the age of 18.
In real life, he is married to Johanna Braddy, who portrays Jenny Matrix (Brian D's love interest); their wedding was in November 2012. Josh & Johanna have a wedding website http://johannajosh.ourwedding.com/ it's dead but still up, there is also a link to their weddings photo here: http://www.100layercake.com/blog/2013/05/23/vintage-outdoor-georgia-wedding-johanna-josh/
They have one Child Johanna.