Nicole Wyland is an actress who plays
Moriarity
in
VGHS
. She also starred alongside
Freddie Wong
in Flower Warfare which recieved 2 million views on the Youtube Channel "freddiew" in one week.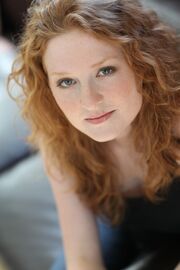 Personal Life
Edit
As well as an actress, Nicole is a model and singer. She attended the University of Pittsburgh where in three years she earned her Bachelor's degree in Theatre Arts in 2008.
External Links
Edit
Nicole Wyland Official Website: nicolewyland.com
Youtube Channel: http://www.youtube.com/channel/UCDVP9QqQ
Shared Youtube Channel: http://www.youtube.com/user/FullFrontalFemales
Twitter: https://twitter.com/msnicolewyland
Ad blocker interference detected!
Wikia is a free-to-use site that makes money from advertising. We have a modified experience for viewers using ad blockers

Wikia is not accessible if you've made further modifications. Remove the custom ad blocker rule(s) and the page will load as expected.