Pizza Dunx
are the cans of pizza seen in
Video Game High School
 that
Ted Wong
 likes. They are pizza in a can form, and are similar to energy drinks in a way,giving the consumer more energy. They are usually sold in vending machines in VGHS. The cans made by Rachel Myers the Production Designer for VGHS as she shows how to in
VGHS behind the scenes 3 season 1
 and the design is by
Rob Tokarz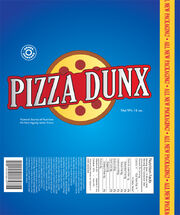 Trivisfmedb
Edit
Jump revealed that the total cost of the Pizza Dunx can (container, pizza, logo design, printing, and construction) cost $289.26.
Edit
Ingredients listed on label include, but are not limited to, "LOW-MOISTURE PART SKIM MOZZERELLA CHEESE, HORSE HOOVES, AND PARTLY RE-CONSTITUTED WORM MEAL(FOR TEXTURE)"
Ad blocker interference detected!
Wikia is a free-to-use site that makes money from advertising. We have a modified experience for viewers using ad blockers

Wikia is not accessible if you've made further modifications. Remove the custom ad blocker rule(s) and the page will load as expected.