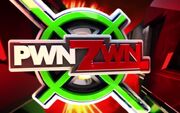 PwnZwn is a show seen in Video Game High School. It appears to be a show similar to the real life show, Sportscenter, but talks about gaming instead of sports. It also appears to be inspired by ESPN Zone because the logo's are almost identical.
The host of PwnZwn is Scott Slanders while ShotBot used to be a host until his death.
Ad blocker interference detected!
Wikia is a free-to-use site that makes money from advertising. We have a modified experience for viewers using ad blockers

Wikia is not accessible if you've made further modifications. Remove the custom ad blocker rule(s) and the page will load as expected.