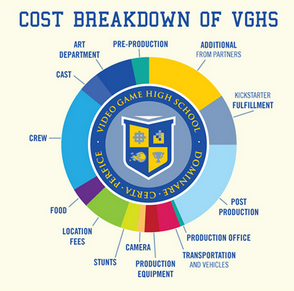 VGHS Season 1 cost $636,010.71. Below is the cost breakdown of this:
Pre Production, The Story: $21,000.00Edit
This included writing the script plus all the legal issues related to being able to use a script.
Art Department: $42,612.00Edit
This covers thge creation of all sets, props and the design of the look of VGHS.
Cast: $26,080.89Edit
This includes the main speaking cast and background extras.
The Crew: $123,507.01Edit
This includes the price of everyone behind the camera except the directors who declineda salary.
Food: $22,979.32Edit
Price of all on-set meals.
Location Fees: $47,917.04Edit
The cost of the use of exteriors, the fees for personel who need to oversee shooting at locations and the cost of cleanup and any repairs.
Stunts: $18,463.13Edit
The cost of stunt guys as well as the cost of purchasing or renting additional stunt equipment and rigging.
Camera: $9,790.64Edit
The cost of camera and camera related equipment rentals such as tripods, dollies, lights etc.
Production Equipment: $16,728.48Edit
Anything that doesn't really fit elsewhere. Mainly the cost of special effects such as explosions during the action scenes.
Transportation: $25,987.39Edit
The cost of fuel reimbursements, truck rentals for film equipment, and RV and trailer rentals for hair/makeup, costumes and the cast.
Post Production: $116,874.95Edit
This includes editing, sound design, music compostion, colour correction and editing equipment rentals and hard drives. Additionally this is includes some VFX work by Playfight.
Production Office: $4,151.38Edit
All the paper work of the show such as script copies and call sheets, this also includes rental of a production office, shipping costs, office supplies etc.
Kickstarter Fulfilment: $59,918.48Edit
The cost of fulfilling kickstarter orders which includes shipping about 5000 items around the world.
References
Edit